JD Hooge, Co-Founder and CCO & Jessica Hartley, VP of Strategy at Instrument
JD Hooge, Co-Founder + Chief Creative Officer and Jessica Hartley, VP of Strategy at Instrument (a digital product and brand experience innovation agency in Portland, Oregon) joins Adobe XD for a conversation on the evolving role of strategy, digital customer experience, and how the creative industry can deliver transformational change for people of color.
Please register to receive reminders for this event and access to event recordings and resources. This session will be broadcast through a live stream on Adobe Creative Cloud's LinkedIn page. Click date and time below.
Speakers: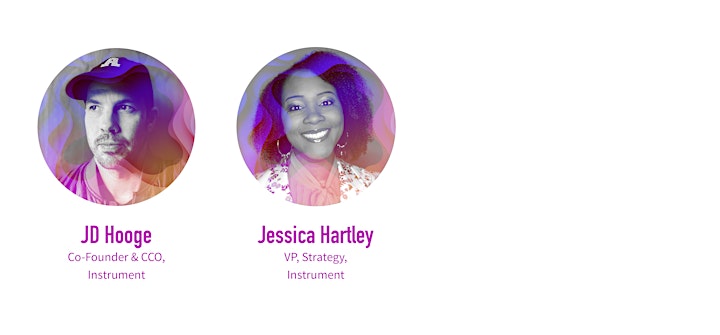 About JD Hooge: JD Hooge is a designer, Co-Founder and Chief Creative Officer at Instrument. For twenty years, he has pursued beauty, function and meaning; using design and technology to shape brands, build products and tell stories. At Instrument, JD has led projects for clients including Google, Nike, Sonos, Dwell and the NBA. In his spare time, he's a father of three, a record collector and pandemic puppy owner.
About Jessica Hartley: Hartley is the Vice President of Strategy for Instrument, a digital product and innovation company headquartered in Portland, Oregon. She leads a team of 40 talented strategists, to partner with the world's leading brands to transform their digital experiences across the entire customer journey.
Hartley is extremely passionate and active in supporting the inclusion, development and advancement of underrepresented communities in technology, advertising and consulting services industries.  As an advocate and public speaker, she has provided diversity, inclusion and belonging consulting services to global, startup and non-profit organizations.
Committed to giving back, she is a Board of Trustee and co-chair of the DEI Committee for WorldOregon, a non-profit organization focused on creating a pipeline for international engagement so that Oregonians of all ages can be informed and active global leaders. She is also a Board Member for Digital Futures Initiatives, a non-profit organization focused on educating children in topics such as digital citizenship, cyberbullying, distracted driving and navigating digital relationships. Finally, she is a proud mother as part of Jack and Jill of America, Inc.