Phillip Tiongson, Founder & CEO, and Myles Bryan, Design Director of Potion
A software engineer, designer and filmmaker, Phillip Tiongson is the co-founder of Potion, a New York based interactive design studio that crafts technology into intuitive interactive experiences. Joined alongside Myles Bryan, Director of Design, they'll both chat with Adobe XD about creating cutting-edge digital interactions and fostering a transformative experience of the physical world.
Please register to receive reminders for this event and access to event recordings and resources. This session will be broadcast through a live stream on Adobe Creative Cloud's LinkedIn page. Click date and time below.
Speakers: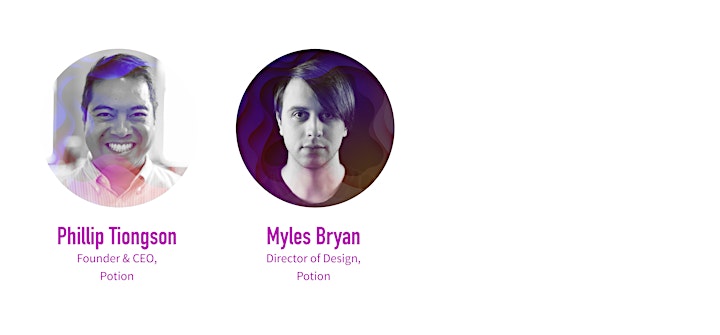 About Phillip Tiongson: Phillip is the principal and a founder of Potion. Drawing on his training and passions as an artist, software engineer, and storyteller, Phillip leads the studio in creating its groundbreaking interactive experiences. Potion's signature installation projects, which merge physical and digital elements, reflect his belief that digital interactions can foster a transformative experience of the physical world. Phillip believes that the blending of computation, design, and storytelling creates a new medium of expression. Always curious, Phillip is cultivating new areas of Potion's design practice, including mobile app development and strategic consulting.
About Myles Bryan: Myles is a Design Director with a focus on experiences. His early background was mainly in motion design, technical direction, and visual effects, but he has since found his love within experiential design. He believes a single profound moment can influence a person's world, so he challenges himself and other designers to grow with audiences and create those moments in spaces. By leveraging rapid prototyping tools like generative media software and three-dimensional rendering solutions, he brings ideas to life quickly with realism and depth to help clients better realize their project goals, and ultimately a result that exceeds expectations. This prototyping-and-visualize approach allows audiences to see from start to finish the path of a project, as it traverses through ideation to production, while also establishing a pipeline that sets production expectations early on to keep multidisciplinary teams engaged throughout the project's life.